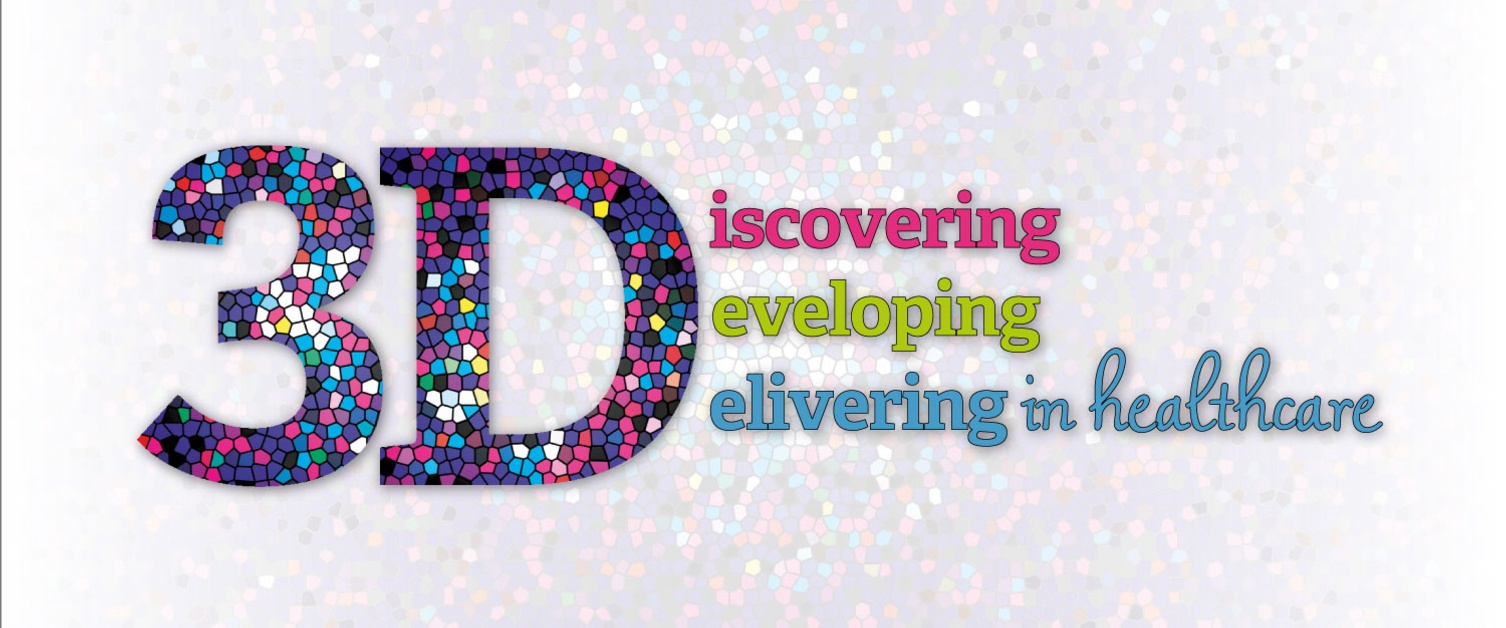 ---
3D - Discovering, Developing, Delivering in Healthcare
The 3D programme is a free educational programme open to GPs, hospital based doctors, public health doctors, dentists, pharmacists and optometrists.
The 3D programme is designed to address the educational requirements of healthcare workers who wish to extend their abilities in engaging with, and influencing, the service improvement agenda in NHS Wales.
A key component of the 3D programme is the 3D project; a project identified by the participant which is based upon health care improvement. Through a combination of organisational theory and practice, the programme aims to increase the skills and confidence of those clinicians who do not see themselves as leaders in the traditional sense, but wish to implement and influence change within their clinical area.
FAQs
Why should I take part in the 3D programme?
This is a well-established programme which supports healthcare professionals to develop management and leadership skills to deliver and improve patient services across Wales. You will take part in interactive workshops run by experienced speakers and discuss the progress of your own project in small groups. This side-by-side learning complements and accentuates your experience as you will be able to apply theory in a practical way to further your own project.
What is the 3D programme aiming to achieve?
The 3D programme aims to empower clinicians who do not see themselves as leaders in the traditional sense. Many clinicians want to make systems of care work effectively in their individual area of practice. However, time, confidence and the skills to instigate and sustain improvements are often the limiting factors in achieving success. The 3D programme is aimed at increasing the skills and confidence of those clinicians that wish to implement and influence change within their clinical area.
What is the educational framework?
The programme is based around three educational themes:
Personal Development/Self Awareness: A key aspect of the programme is to encourage participants to reflect on how their personality and behaviours affect others and how others affect them. This knowledge can then be applied constructively to future challenges.
Project skills: The skills and methods needed to plan and deliver the service development project are fundamental to the programme.
Organisational Understanding: An appreciation of the context within which clinicians operate and the various interfaces that influence change across the NHS in Wales.
What are the intended educational outcomes?

Increased capacity to engage in the improvement of the NHS in Wales
Enhanced ability to work within and to lead teams
Recognise and manage the barriers to improvement of patient care
Develop opportunities which can lead to improvements in the quality of care
Apply aspects of organisational theory to workplace and project; gain insights into the local NHS organisational development by working to improve the delivery of care
Become part of a network of clinicians with a broadened understanding of the NHS with experience of trying to effect change at a local or national level.
What will I gain from participating in the 3D programme?
Increased knowledge and self-confidence. Increased motivation and enthusiasm. Networking opportunities. Supportive peer group.
Please watch one of our alumni talking about 3D and the development of her project and career.
Who are the members of the 3D team?
The programme directors are Dr Phil Coles and Dr Laura Mackenzie.
Phil is a Consultant Anaesthetist who brings an extensive knowledge of secondary care to the programme as well as expertise in Quality Improvement having trained as an Improvement Advisor with the Institute for Healthcare Improvement (Boston, USA). This has led to lead roles in transformation programmes both locally as well as nationally, currently holding the position of National Clinical Lead for Outpatient Transformation (Wales). Phil has also achieved a Post Graduate Diploma in Medical Education and a Post Graduate Certificate in Clinical Leadership.
Laura was appointed as a programme director in September 2021. She is a GP in Cardiff and has worked in both salaried and partnership roles. Laura is a GP Appraiser and is a past participant of the 3D programme, having completed the course in 2017/18.
Phil and Laura's combined experience in primary/secondary care is used to guide participants with their projects and educational development.
The 3D programme is supported by Rhian Jones the CPD Manager in the Revalidation Support Unit in HEIW and Hilary Thomas the Administrative Assistant.
What is the structure of the 3D programme?

There are seven half-day modules which will run from September to May on these dates:

Module 1 - 14 September 2022 in North Wales & 21 September in South Wales.
Module 2 -19 October 2022
Module 3 - 30 November 2022
Module 4 - 11 January 2023
Module 5 - 15 February 2023
Module 6 - 23 March 2023
Module 7 - 24 May 2023

Modules 1 and 7 will be face-to-face. Modules 2 - 6 will be online via the HEIW Gwella platform. You will be expected to arrange study leave to attend these modules. Each session typically runs from 9.00am-12.30pm and is composed of an interactive presentation by an experienced speaker, followed by a small group 'project clinic'. Presentations and other resources used by the programme directors/session speakers will be circulated to you.
What is a 'project clinic'?
This is a key component of the 3D programme. There will be an opportunity during each session to update your group about the current stage of your project. Identifying challenges and obstacles is a helpful way to make progress. In small groups of 4-6 people, participants will help each other by listening and offering ideas and peer support to help you move your project forward. In preparation for each project clinic you will make some brief notes on: What have I achieved since the previous module? What have I learned? What will I do next?
What is the HEIW Gwella platform?
This platform enables you to listen to presentations and interact as a whole cohort or as small groups/pairs in break-out rooms. Gwella also enables us to create a 3D network so that you can keep in touch throughout the year. You can post suggestions/questions and receive alerts. You will also be able to access a wealth of resources from contributors including The Kings Fund, NHS Improvement, NHS Leadership Academy and Open University.
Where are the face-to-face modules held?
These will be held in central locations in north/south Wales. You will be able to claim travelling expenses. A form will be issued at the relevant meeting and processed by HEIW. We need to receive your form within three months of the module date.
What will I learn during each module?
Click here to see an overview of each module
What should the scope of my project be?
The scope of projects is diverse, and we welcome all proposals which have some or all of the following aims:
To improve the delivery of health care to patients in Wales
To improve systems within the NHS in Wales that affect the care provided to patients
To link between primary, secondary or public health aspects of care
To be transferable to other organisations across Wales
What have previous participants completed projects on?
Included here are examples of projects titles which have been completed in the past 2 years.
Can I complete the project within the timeframe?
Yes, but the project is not time bound to the 9 months, as many projects have continued to evolve well after the programme has finished. However, the aim of the project clinics is to help you overcome issues that you may be facing with your project.
How much of my personal time will my project take?
The expectation is that you will undertake your project within your own or work time. Two weeks before each module you will be sent pre-course preparation. This usually takes about an hour to complete.
During the project clinics, your peers and the programme directors will support you to overcome any issues that you may be facing. You will need to make some brief notes in preparation for each project clinic so that you can contribute to a group discussion. (e.g. 'What have I achieved since the previous module? What have I learned? What will I do next?')
What happens if I need more support with my project?
Being part of the Gwella 3D network means that you can reach out to the programme directors and your peers between the modules, asking for advice or suggesting new materials to read, IT tips or contacts that you have found useful. During the year, you will have the option of booking a one-to-one mentoring session with one of the programme directors. This will take place after the main teaching session on the dates calendared and can be arranged through the 3D Team CPD Admin.
What happens if I am unable to attend a module?
As healthcare professionals, we understand that sometimes things happen which are out of our control. We do ask that if you are not able to attend a module, you email the 3D Team at CPD Admin so that we are aware. Each module is recorded and is available a few days later so that you can catch up on what you have missed.
Will there be a piece of summative written work at the end of the 3D programme?

No. You will only be asked to summarise the progress you have made with your project on one PPT slide which will then be produced professionally as a poster. Here are some examples of project posters that have been completed previously.
How much does it cost to participate?
There is no charge to participants. The funding is provided by HEIW. You will also be able to claim for your travelling costs for modules 1 and 7.
How do I apply?

Apply by completing the Application form and emailing it to heiw.cpdadmin@wales.nhs.uk.
The closing date for applications is 7th July 2022.
Successful candidates will be notified by 21st July 2022.
For more information please contact CPD Admin.
Recruitment now open!
What have past participants said about the 3D programme?
This is a supportive environment which not only introduces new learning but also quite subtly imposes a pause in your thinking. This alone fosters examination of pre-conceived approaches; it is actually enlightening and a little humbling.
The programme provides a great way of acquiring wide-ranging and essential skills for future leadership roles or enacting change in the NHS.
A good tool kit to tackle the challenges I'll encounter in the future.
It gave me the tools to structure my project and implement it within the service.
Increased my knowledge and confidence to take projects forward.
Formalised my understanding of non-clinical skills and feeling more confident of undertaking QI/business plan projects in the future.
Really appreciated learning from a range of other professionals.
It gave me confidence to express myself in meetings and the self-belief that I could make a difference.
Identified what type of leader I am and how best to manage other people. I have used the template in leading meetings effectively and efficiently so that time is not wasted. Enjoyed listening and contributing to other projects and being part of a multidisciplinary team.